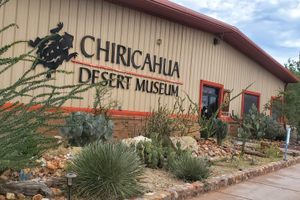 What do you do when you're bitten by a venomous snake? It may not be the quickest approach, but one answer might be to drive to the tiny town of Rodeo, located in New Mexico's panhandle just over the Arizona border. There, you can visit the Chiricahua Desert Museum, home of the world's largest snake bite kit collection, and a place that is at the forefront of antivenom research.
The museum was founded April 1, 2009, and on first glance, it straddles the line between roadside gift shop and educational center. There is a small "living museum" (code for: has a lot of snakes) in the rear of the facility, which is home to a cramped serpentarium featuring more than 50 reptiles found in the Chiricahua Desert, including several rattlesnakes. The snake bite collection kit is also located inside, along with a description and some advice: "To state the obvious, the best thing is not to get bitten by a venomous snake."
In addition to the snakes, the museum also offers a number of other collections, ranging from an outdoor botanical garden, to a small museum sharing Chiricahua Apache history, to works of western art. The artwork includes a 15-foot sculpture of a rattlesnake tail, commissioned by herpetologist/artist Tell Hicks. The facility is also a full-fledged science museum, publishing research on herpetology and hosting conferences with many of the leading doctors, veterinarians, and venomologists in the field.