5:52 PM PT — The NBA is punishing Draymond Green for his putting Rudy Gobert in a chokehold … hitting DG with a 5-game suspension.
In announcing the suspension Wednesday, the NBA says … "The length of the suspension is based in part on Green's history of unsportsmanlike acts."
Draymond will reportedly miss out on $769,970 in salary with the unpaid suspension … and he's being fined $25,000.
Meanwhile, Rudy is being docked $25K … as are Klay Thompson and Jaden McDaniels.
Draymond Green has found himself in hot water for putting his hands on someone once again.
This time, the Warriors superstar was ejected from Golden State's game against the Timberwolves on Tuesday night … because he locked Rudy Gobert in a chokehold.
The MMA move happened just seconds into the Dubs' contest with Minnesota at the Chase Center in San Francisco … just after Klay Thompson got tangled up with Jaden McDaniels.
The two NBA stars swung each other around right in the middle of the court … and in an effort to break it all up, guys from both teams raced in.
But, when Green got to the fracas, he appeared to escalate things further by wrapping his arm around Gobert's neck — and refusing to let go … this despite repeated pleas from head coach Steve Kerr.
Eventually, Green did drop Gobert … but refs still decided to throw him out of the game for the act — as well as Thompson and McDaniels.
After the game — which the Warriors ended up losing — Gobert blasted Green for it all … calling the Golden State star's actions "clown behavior."
"It's kind of funny because before the game, I was telling myself that Steph [Curry] is not playing, so I know Draymond is going to try and get ejected," Gobert said. "Because every time Steph doesn't play, he doesn't want to play — it's his guy Steph. He'll do anything he can to get ejected."
Gobert then called for punishment for Green.
"I do hope that the league is going to do what needs to be done because that's just clown behavior," Gobert said. "Not much to say. It's clown behavior."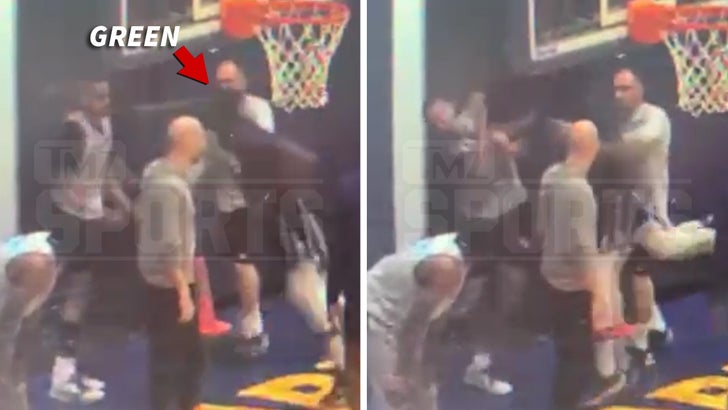 OCTOBER 2022
Of course, Green is no stranger to these situations … he's been ejected for physical altercations several times over his career — and, perhaps most famously, he was fined by his own team last year for getting violent with teammate Jordan Poole during a preseason practice.
We covered it all on the latest episode of The TMZ Podcast, available on all podcast platforms.
Originally Published — 6:19 AM PT